BAISAKHI CELEBRATION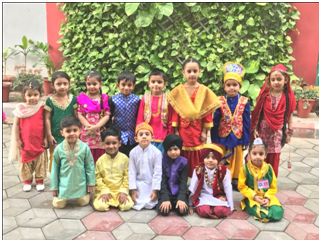 Genius Convent Sr. Sec. School celebrated 'Baisakhi' on April 13, 2017 with great zeal and enthusiasm. Children were explained about the importance of the festival. They followed the Punjabi theme on this day by coming in colourful Punjabi dresses and they also bought Punjabi food from home. Dhol beats and Punjabi folk music added to the fun and excitement. The children were instilled with a feeling of pride in their own culture through fun activities.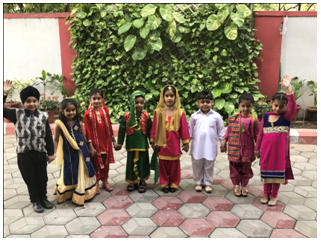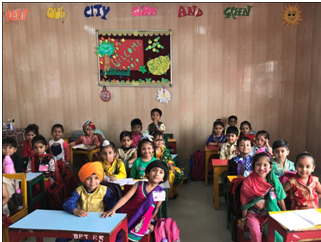 INDEPENDENCE DAY
Independence Day is celebrated in Schools with great Zeal and fervours to enthuse the new generation with patriotism and national pride. At Genius Convent Sr. Sec. School, this day was marked with a colourful cultural programe which included speeches, patriotic songs, action song, Dance and one Act play. A ' KaviSamvelan' was also organized on this day in which the famous poems of solve popular Hindi Poets. The Chief Guest Dr. Vijaya Rani Ji and Our Hon- Chairman Sir dr. V.K. Goyalji also graced the occasion and encourage the students with their words of wisdom and guidance.
COLOURFUL CREATIONS TO WELCOME DIWALI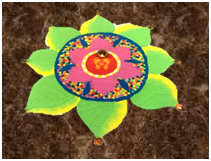 Rangoli making is a tradition passed on from generation to generation. A Rangoli competition was organized in Genius Convent Sr. Sec. School, Vikaspuri on 22nd October with the objective is to disseminate the message to celebrate pollution free Diwali. The Maj. Gen. M.C.Gupta Memorial hall was transformed into a large canvas reflecting colourful creations and detailed designs. All the rangolis were traditional and colourful. Diya's were also used to create a spiritual environment. The judges were overwhelmed to see the creation of young students of class VI to XII. Children thoroughly enjoyed doing Rangolis and felt proud at their own creations. This competition has truly announced the beginning of the Diwali festivities!!!